This article will explain to you about the script "hinemos_cluster_db.sh".
"hinemos_cluster_db.sh" is used to reconstruct the internal database of Hinemos.
Specifically, this script will clean up unused segment, fix the fragmentation of data files, etc., and is essential for sustaining a stable performance.
Until Hinemos version 5.0, it was required for the user to stop Hinemos before executing this script. However, from version 6.0, it became possible for users to run this script without suspending the operation, reducing their workload significantly.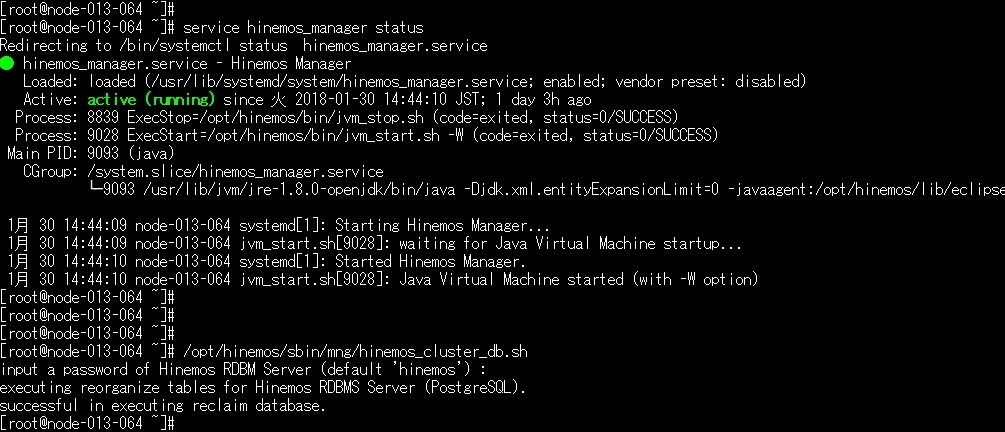 Please note that it will require stopping Hinemos Manager when specifying additional options such as "-c" and "-F" when executing this script.
When specifying the "-c" option, the reconstruction will be performed as a CLUSTER.
When specifying the "-F" option, it will perform a VACUUUM FULL reconstruction.
(The "-r" option will be the same as without specifying any option.)

For regular use, it will be usually ok without specifying an option for this script.
If you are running out of disk space, it might be better for you to perform a VACUUUM FULL reconstruction.
Note that database reconstruction will require temporary disk space while copying the table.
That's it for today's post!
Thank you for reading!
Hinemos Subscription
If you are interested in using Hinemos in the enterprise environment, visit our online store Hinemos Store for information regarding our subscription packages of Hinemos. Various types of subscription are available with additional option features, support, etc., for enhancing the operation of Hinemos.
<
form>Go to Hinemos Store!
Note: Currently, our subscription is available only to customers located in the United States.
Follow our SNS accounts for updates and more!