Introduction to Hinemos Utility Feature
Hello!
In this article, we will introduce you the Hinemos Utility Feature.
Hinemos Utility is one of the extra features of the Hinemos Enterprise features. It works as a plug-in of Hinemos Client.
Handling the settings data through Excel will allow us to set up the initial configuration of Hinemos or even operate maintenances more efficiently!
This time, we will see how to import the settings of Hinemos Manager, edit the data on Excel and export it back to the manager.
[Goal]
Being able to change the Process Monitor's targets from Node A to Node B.
We want to change all target nodes at once without modifying the monitoring settings.


[Procedure]
(1) Export the desired Monitor Setting from Hinemos Client.
Now, let's export our Process Monitor settings in order to modify it later.
Select "Process monitor" from the Setting Data Import/Export perspective then click the "Export" icon.



Depending on your client, the exported data will be saved as follows:
Rich Client: Download the file to a specific folder
Web Client: Download a compressed .zip file (into your default download location)


(2) Open the matching Hinemos Utility Excel file (in our case HinemosUtility_x.x.x_Monitoring_EN)
Fill in the "directory to read/write xml files from/to" forms and then click on the "Read Process XML" button. Choose our previously downloaded XML file. On the Process Monitoring tab you can now change the monitored node from Node A to Node B.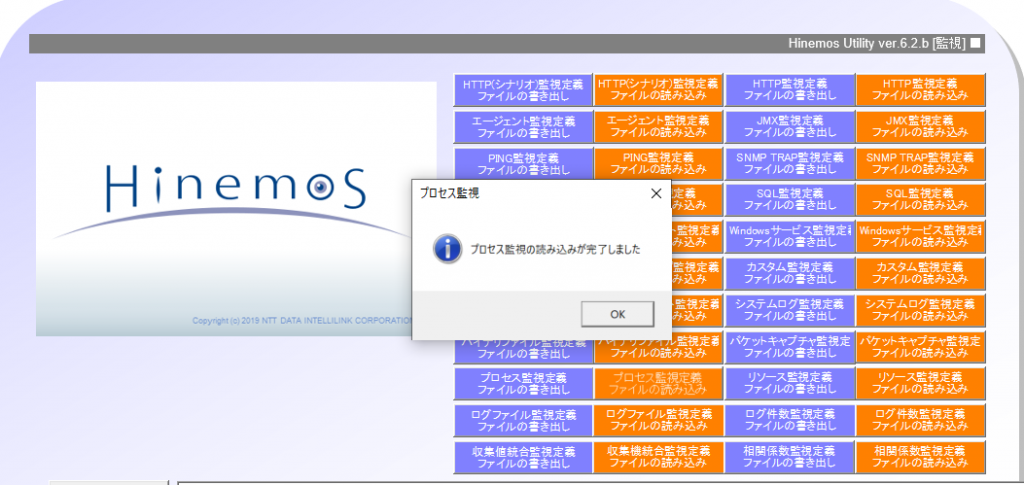 (3)Next, export the Process Monitoring settings to an XML file by clicking on the "Write Process XML button" from the Hinemos Utility tab.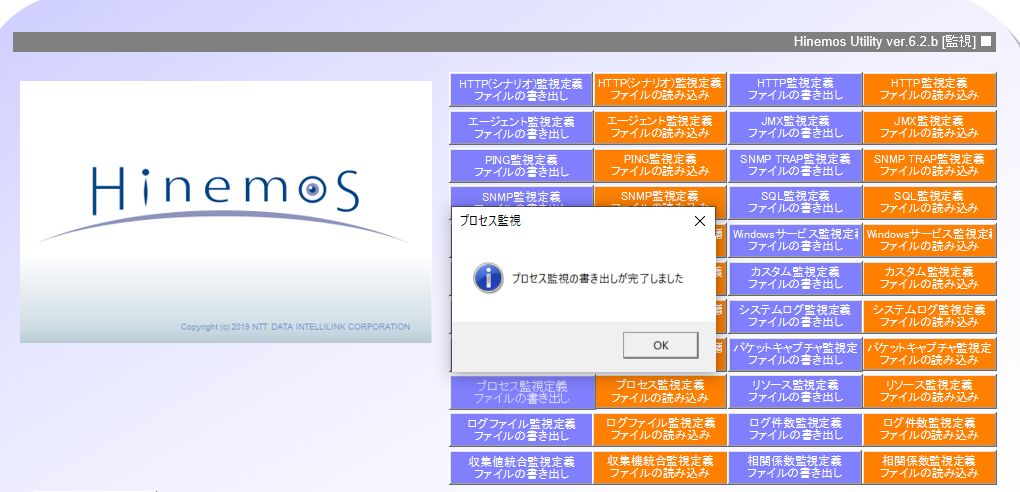 (4) The same way we did on step 1, let's import our new settings (XML file) from the Setting Data Import/Export perspective view in the Hinemos Client. Click the "Import" icon.





(5)After importing, check that all your changes have been made

And we are done!
In addition, Hinemos Utility feature is supplied with a diff tool. Still, you can change a batch of data all at once as we saw in this article, but Hinemos Utility feature can also be really useful to collect and manage backups for example.
That's it for the Utility feature.
Thank you for reading!
ご意見やお問い合わせについて
この記事へのご意見やお問い合わせについては、
こちら
(お問い合わせフォーム)もしくは
Hinemos営業担当【hsd-sales@atomitech.jp】までご連絡ください。
※お問い合わせフォームからご連絡の場合には、お問い合わせ内容で「Hinemosについて」を選択し、
 本文の冒頭に「Hinemos研究日記_【タイトル名】」とご記載ください。
※メールアドレスへご連絡の場合には、件名を「Hinemos研究日記_【タイトル名】」でご連絡ください。